Where to Find It: Score of opera and aria alone - Classical Vocal Reprints, 1-800-298-7474. Catalog number for aria: #0560, for score: #50098 (Ricordi). Buy aria sheet music online at Sheet Music Plus. Tutto sprezzo che d'Ernani - Cabaletta for Ernani, Ernani involami from Act I, Scene 2 of the Italian opera, Ernani by Giuseppe Verdi. Verdi's early opera Ernani is set in 17th century Spain and deals with the private passions and public lives of royal figures. It is an early, undeveloped predecessor for his later similar operas like Don Carlos and Simon Boccanegra.
Natalie Aroyan (Elvira) and Diego Torre (Ernani)
© Prudence Upton
Diego Torre (Ernani), Natalie Aroyan (Elvira) and Vitalij Kowaljow (Silva)
© Prudence Upton
Vladimir Stoyanov (Don Carlo)
© Prudence Upton
Simon Kim (Don Riccardo), Vladimir Stoyanov (Don Carlo) and Natalie Aroyan (Elvira)
© Prudence Upton
Ever since European settlement began, Australia has had to reckon with a sense of its isolation from the traditional centres of Western culture. Right now, this is an advantage rather than an obstacle, as the pandemic has been controlled here to such an extent that live opera performances in front of masked spectators are again a possibility, in stark contrast to the situation throughout virus-ravaged Europe and America. This sense of a (temporary) relocation of operatic activity was highlighted in Wednesday night's Ernani, which happened to be an Opera Australia co-production with Milan's La Scala, that most iconic of Italian venues.
Natalie Aroyan (Elvira) and Diego Torre (Ernani)
These days Ernani languishes in the bottom half of Verdi's output in terms of numbers of productions, but it was once rated much higher. A success from its first run of performances, it established the composer's fame throughout Europe. One can certainly hear in it those stylistic features which were cemented Verdi's better-known middle-period operas: soaring lyricism, coloratura display, banda textures, simple rhythmic patterns, and a shrewd sense of dramatic pacing.
The mechanics of the plot have much in common with another of Verdi's Spanish operas, the later Il trovatore: a woman is in love with a rebellious outsider, but is forcibly wooed by another more powerful man (in the case of Ernani, by two more powerful men: the Duke Ruy Gomez de Silva, and King Carlos of Spain, soon to become Holy Roman Emperor).
Diego Torre (Ernani), Natalie Aroyan (Elvira) and Vitalij Kowaljow (Silva)
But where Trovatore emphasises these personal loves and jealousies, in Ernani they become imbricated in politics to a greater extent. Undergirding the actions of these Spanish grandees is a rigid code of honour, which Julian Budden has described as "more an obsessive pride which turns all the characters into giant egotists, swearing mutual vengeance for the most trivial causes, doing each other monstrous kindnesses, destroying themselves and each other to satisfy some whim of punctilio". The shifting hatreds and alliances between the three rivals-in-love was hard to follow or relate to, and lines like "love's bridal bed was our altar of death" steered the opera perilously close to camp.
Faced with a plot which, viewed unsympathetically, is frankly risible, the director Sven-Eric Bechtolf used various devices to achieve a kind of Brechtian 'alienation'. Right from the start, the theatricality of what we were to experience was advertised: the prelude and the final scene were witnessed by travellers dressed in 19th-century garb, in striking contrast to the medieval-themed costumes of the characters. The mechanics of the production were also foregrounded: scenery and backcloths were raised and lowered by four very prominent wheels operated by stagehands in full view of the audience. At times, these changes happened while the previous scene was still going full throttle, leading to (deliberately) disconcerting visual juxtapositions.
Simon Kim (Don Riccardo), Vladimir Stoyanov (Don Carlo) and Natalie Aroyan (Elvira)
Ultimately, however, these elements did not amount to a Regie-style deconstruction of the heroics of the story. Aside from a few comedic touches (as when everyone ducked while a vengeful Silva clumsily wielded an overly large sword), a tone of high seriousness was mostly maintained by the characters, leaving the viewer unsure as to the point of the production. The sets by Julian Crouch were gorgeously realistic, with the rendition of Charlemagne's tomb in the gothic cathedral of Aix-la-Chapelle a highlight. Similarly Kevin Pollard's costumes were a riotous feast of colour, and the sight of the chorus in full carnival kit for their brief appearance at the start of Act 4 fully justified the slightly awkward pause.
Diego Torre, for all his commitment when actually singing, brought little dynamism to the title role. Ernani is hardly one of the more interesting or developed characters in opera, but still one might have hoped for more snarling defiance, ardour and pride. In the more static solos and ensembles, his focussed tenor voice shone. Natalie Aroyan was a sound Elvira with plenty of opportunity to demonstrate her full high notes, while Vladimir Stoyanov grew into the role of Carlo, with his Act 3 stop-time cantabile "O sommo Carlo" a luscious gem.
Vladimir Stoyanov (Don Carlo)
The outstanding performance on the night was from Vitalij Kowaljow as Silva, his powerful bass voice giving the character genuine menace. The inserted cabaletta he sang in Act 1 may not have been endorsed by Verdi, but it was a welcome opportunity to hear more of him. Jennifer Black (Giovanna), Simon Kim (Riccardo) and Luke Gabbedy (Jago) all acquitted themselves well. The Opera Australia Chorus was comparatively busy, with the oath-swearing scene and the Act 3 finale particular highlights. The orchestra under Renato Palumbo emerged with credit, a few cases of poor coordination between pit and stage sure to be resolved in future performances.
***11
See full listing
"director Sven-Eric Bechtolf used various devices to achieve a kind of Brechtian 'alienation'"
Reviewed at Sydney Opera House: Joan Sutherland Theatre, Sydney on 2 February 2021
Renato Palumbo
,
Conductor
Julian Crouch
,
Set Designer
Marco Filibeck
,
Lighting Designer
Vitalij Kowaljow
,
Don Ruy Gomez de Silva
La traviata
's dazzling return to Handa Opera on Sydney Harbour
Fireworks, party boats, Violetta swooping from a giant chandelier: soprano Stacey Alleaume triumphs in this magnificent restaging of Francesca Zambello's spectacular waterfront La traviata.
****1
Fascist
Tosca
revived by Opera Australia
John Bell's reworking brings Tosca to 1943 Nazi-ruled Rome, featuring gorgeous sets and Carmen Giannatassio's striking Opera Australia debut in the title role.
****1
A triumph in miniature:
Bluebeard's Castle
at Opera Australia
Role and production debuts in no way diminished the psychological impact of this intense hour with Bartók and Balázs.
****1
Making an entrance: Opera Australia returns with glitzy
Merry Widow
After almost a year off stage, Opera Australia returns with this visually stunning, 1920s-inspired production of the perennial operetta favourite.
****1
More reviews...
Related articles
David is a lecturer at the University of Sydney, specialising in nineteenth-century music. Educated at Dublin and Cambridge, he has published on Richard Strauss, Liszt and Wagner. He gives pre-concert talks for the Sydney Symphony, and sings with a number of chamber choirs.
To add a comment, please sign in or register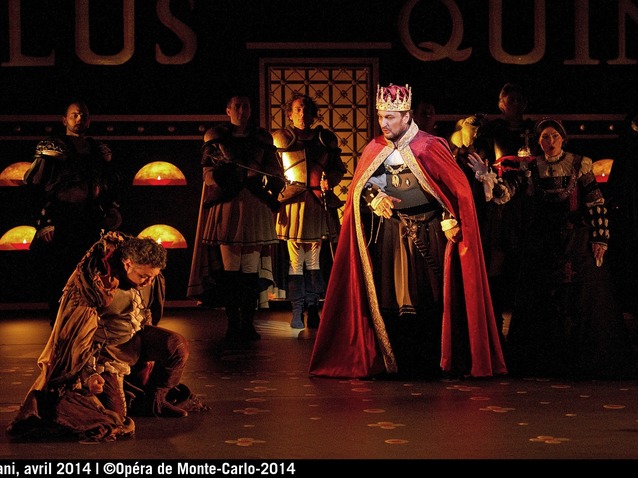 Mobile version
Last night to Opera Australia's "co-production" with La Scala of Ernani.
It was good to be back in the SOH and I received a friendly welcome back from ushers known to me. However hard the shut-down has been for me it must have been at least as difficult for them.
Pre-show front-of-house was an oddly-subdued experience. Numbers are necessarily down and we all must mask-up and keep our distance. Foregatherers took to the limited outside area to which we are permitted access for a last minute respite from mask-wearing and easier social distancing.
The bar closes at the beginning of the performance. Drinks may be taken into the auditorium. I only discovered this when I rushed out for an interval drink. That's probably a good thing for me given Opera House drinks prices but it did make for a very quiet interval.
There was a conspicuous cheer and dare I say gratitude at the resumption of almost normal services. The performance was punctuated by smatterings of applause rather more frequently than (imho) it would usually merit, though they mostly tended to the mild-mannered. I would have preferred more discriminate outbursts at real emotional highlights.
Real emotional highlights, for me at least, were scarce because the production itself has given up on the opera according to its own terms. We are told this is on account of the ludicrousness of the plot. Audience resistance to this is meant to be forestalled by an "opera" encased with play-within-a-play inverted commas. The cast wander in during the overture as if they are a travelling company; there is lots of stage-hand-and-scenery business. Don Carlos's costume and makeup were being touched up by pretend stagehands during the mood-setting prelude to his big scene.
I spotted Arky Michael amongst the "Opera Australia Actors" responsible for this and other business. It's not a big role. These are tough times. A guy's gotta work.
However the p-within-a-p think may work at La Scala where they have (if not now) oodles of productions (and it was pretty strongly criticised there) I don't think this is the way to go here where we are down to just a few examples a year of what management itself has decided is a dying form. Mostly what this Verfremdung did for me was to break up the opera into a series of set-piece excursions into various operatic genres: an anthology of quaint, if intriguing (largely because of the prefiguration of later Verdi) museum pieces.
The low point was the comic business during the scene-change between Acts III and IV where a "stage-hand" held up a placard about the length of the intermission – three minutes – then "amended" by a "scene-painter." Not that he could be a "scene painter" because the "curtain" he was "painting," in terms of the play-within-a-play was a [no """] curtain. I hope I am making myself clear. Oh no: a Joke at the Opera! According to the usual rule and factoring in the returning cheer, many in the audience obediently tittered. I just cringed.
Ernani Opera Review
Only at the end, when the play-within-a-play backdrop was lowered and Ernani bid bade his sad lonely (until he hooked up with Elvira) life adieu was I emotionally moved. Surely that desolation – ie, orphaned bandit and therefore but for his band an outcast – was where things should have started? On the train on the way home I watched a bit of the Met production with Pavarotti, Leontyne Price et al. It's not as if Pavarotti was ever the world's greatest actor, but you can sense his desolation from the start.
I don't make the mistake of judging OA principals by historical Met standards. The principals were strong. Maybe Natalie Aroyan lacks a bit of coloratura refinement but she can rise above the storm impressively when required. The male chorus were a bit scrappy in faster bits. I put this down to coming back together after so long away. Something similar is almost always noticeable when an orchestra resumes after a break and I think a long break could be even harder for a chorus.
At least one now-redundant orchestra member was playing in the banda – perched up high on one side of the auditorium in the second level above the loge (which was musically quite effective).
From where I was sitting I became aware of a tiny buzz echoing back from the upper circle – a bit like what was once called a jew's harp – whenever the baritone (Don Carlos) was singing. I don't know whether this was an artifice of the amplification/enhancement system though I suspect so. There was another moment when the violins were really digging into the accompaniment to "Lo vedremo, veglio audace" where I wondered if the electricity was lending a bit much of a helping hand.
In the surtitles in Act II an "it's" which should have been "its" has eluded any proof-readers. ("The castle is loyal, like it's master.") Just saying.
These are obviously difficult times for the opera. When tickets first went on sale, the prices were high and the cheapest categories of tickets were no longer being sold. Later the prices came down a bit and I took the plunge. If you were to pick your own seats online you couldn't help OA out by buying adjacent seats for members of the same household. I'm not sure what box-office staff remain to accommodate such a possibility or if the actual box-office has by now reopened.
Now the capacity limit has been lifted to 75% which would be a relief for the company save that it is saddled with houses full of scattered single seats [Afternote 7/2: perhaps this was a consequence of how available seats were being displayed because that seems to have now resolved on the website into a more conventional array of available seats. Prices are still up though. Further afternote: Friends have received upgrades, presumably then reducing the number of single seats. Right now for tonight (8/2) there are about 530/1440 seats available, ie, on a 75% capacity about 180 seats which could still be sold. For the remaining performances, it's about 440, so about 90 for each.] Counter-intuitively, the prices have zoomed back up in all reserves. I doubt if they will shift many in this production. The hated $9.80 booking fee is a further disincentive against casual purchases. The very cheapest seats on the side upstairs are still not on sale.
I'm not personally worried about going to the theatre under present conditions but older people could well be and of course conditions can change suddenly.
These days AO is issuing little program booklets gratis.
Aida Opera By Giuseppe Verdi
This is the artists page:
This is the opening spread:
Tags: Cult of personality, Ernani, Opera Australia;