GIACOMO PUCCINIThe first act takes place at Amiens. The scene is a large square near theParis Gate. On the right is an avenue, and on the left an inn, under whoseporch are tables for customers. An outer staircase leads to the upper floorof the inn. A mixed crowd of students, citizens, women, and soldiers arestrolling about the square and along the avenue. Some are gaming. Edmondoenters with some other students, followed later by Des Grieux. The studentsact as a chorus to Edmondo's
'Ave, sera gentile' (Hail, beautifulnight).
When Des Grieux enters in melancholy mood, the students jokehim. The girls, for whom the students have been waiting, now enter fromtheir work. They turn away from Des Grieux, and Edmondo begs his friendsto leave him alone. A postillion's horn is heard and a diligence arrives,from which Lescaut, Geronte, and Manon alight. Des Grieux is enchantedwith Manon's beauty, and when Lescaut goes into the inn, approaches Manon,and obtains her consent to meet him later. Lescaut comes back with Geronte.He has brought his sister Manon to enter her in a convent. Geronte, whois enamored of the girl, tells Lescaut that his pretty little sister seemsunhappy. He invites Lescaut to sup with him, and Lescaut accepts theinvitation. Lescaut is attracted by the gamblers and takes part in theirgaming. Geronte, seeing Lescaut absorbed in the the game, determines torun away with Manon. He tells the innkeeper he will want horses and acarriage in an hour, and that he must keep silent if he sees a man anda maiden go off. Edmondo overhears the conversation, and suggests to DesGrieux that he should run away with Manon and take Geronte's place in thecarriage. Manon keeps her assignation with Des Grieux, and the two go offas Lescaut and Geronte appear on the scene. Geronte is then told byEdmondo that Manon has gone off with the young student. In disgustedastonishment, Geronte disturbs Lescaut in his play and tries to prevailupon him to follow the flying pair. Lescaut, however, will have the supperpromised him, and says he will go after Manon in the morning. The curtainfalls to the sound of loud laughter from the students.
In the second act the scene changes from Amiens to Paris. The curtain goesup discovering a handsomely furnished room in Geronte's house, in whichManon is now living as his mistress. She had left Des Grieux when his moneywas gone. Manon is seated at her toilet-table, waited on by the hair-dresserwith two assistants. She is instructing the hair-dresser to be careful inthe work of doing her hair. Lescaut now enters and congratulates his sisteron her change in life. Manon keeps instructing the hair-dresser, and, whenthe toilet is finally completed, steps forward to be admired by her brother.In spite of her brother's praise of her beauty and position, Manon is sadat having left Des Grieux. She is always thinking of him. Geronte is old,and bad, and a bore. Singers now enter, sent by Geronte to amuse Manon,and they sing a madrigal in praise of Manon's beauty. Manon gives herbrother money with which to pay the singers, but Lescaut pockets the purse,saying he would not insult them by offering them money. He bids them farewellin the name of glory, and the singers bow themselves out. Geronte now enters,bringing with him a dancing master, musicians, and some old friends. Manonis bored by them all. Under Geronte's instructions a minuet is danced, inwhich Manon takes part, led by the dancing-master.
Lescaut Sas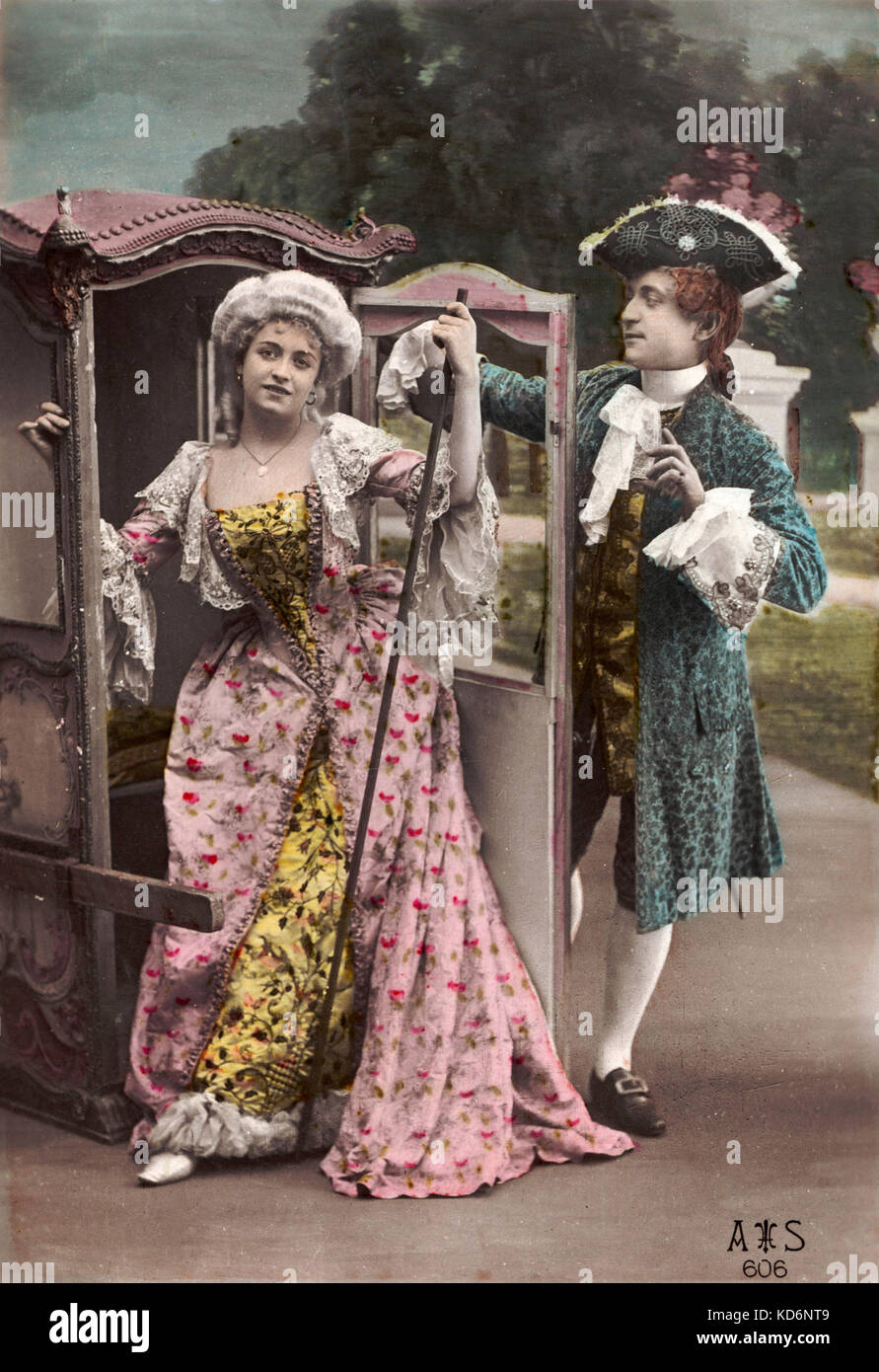 Listen free to Giacomo Puccini – Puccini: Manon Lescaut (Manon Lescaut (1997 - Remaster), Act I: Ave, sera gentile (Edmondo/Coro/Des Grieux), Manon Lescaut (1997 - Remaster), Act I: Tra voi, belle, brune e bionde (Des Grieux/Coro) and more). 34 tracks (113:47). Discover more music, concerts, videos, and pictures with the largest catalogue online at Last.fm. In de Scheldewijk zijn we volop bezig met de bouw van 24 sociale huurwoningen, onder de naam De Hofjes. De huizen liggen aan de noordkant van de Scheldewijk, tussen de Singel en de Paul Krugerstraat. 'Manon Lescaut' is a novel where the hero is a scoundrel, and the heroine is a harlot. But this realization comes slowly. And it is a difficult realization for the reader, like when we begin a relationship with someone we greatly respect, only to discover their bad qualities later. Lescaut comes back with Geronte. He has brought his sister Manon to enter her in a convent. Geronte, who is enamored of the girl, tells Lescaut that his pretty little sister seems unhappy. He invites Lescaut to sup with him, and Lescaut accepts the invitation. Lescaut is attracted by the gamblers and takes part in their gaming.
Geronte now suggests that it is time to take a stroll on the boulevards,and begs Manon to join them there later. He leaves, kissing Manon's hand.,and all depart with him. Manon is alone, and busies herself arranging hertoilet for the promenade, while waiting for the sedan chair Geronte hasgone to order. Des Grieux suddenly appears, and they renew their love vowsin a charming duet. They have barely finished embracing each other whenGeronte comes back. They separate hurriedly, in surprise at being discovered.Des Grieux makes a menacing step forward towards Geronte, but Manon placesherself between them. Geronte jeers at her and reminds her of all that hehas done for her. She answers him by placing a mirror in his hand and bidshim look there and he will see why she cannot love him. Geronte controlshis anger and leaves the two together, smiling in sarcasm, and promisingthem that they will meet again quickly. The lovers are overjoyed at beingleft alone. They determine to go away together. Manon, however, is loathto leave her jewels and pretty dresses. Des Grieux is bitter at herdisposition, which can be so easily led by the allurements of pretty thingsrather than by love. Manon is moved by his despair and begs forgiveness.She swears to be true and faithful to him. Lescaut now enters hurriedlyand entreats them to get away at once. The vile old scoundrel, as he callsGeronte, has called the guards, and these must be now on their way.Manon quickly seizes her jewels, and she and Des Grieux make for the door.They find it locked. Lescaut pushes Manon and Des Grieux into an alcoveand follows after them. A scream from Manon is heard, and immediately aftershe rushes out of the alcove, followed by Des Grieux and her brother.From the open curtains of the alcove come soldiers. The door is now burstopen and soldiers rush in to arrest Manon. In trying to escape, Manon letsfall the jewels. She is dragged away by the soldiers, who will not permitDes Grieux to go with them.
An Intermezzo is now played, during which Des Grieux declares his intentionto follow Manon even to the end of the world.
The third act takes place in Le Havre. The scene is a square near the harbor.On the left is a soldiers' prison, showing a window protected by iron bars.On the side looking towards the square is a large closed gate, at which asentinel stands guard. In the distant harbor a man-of-war ship is partlyvisible. Manon is in prison, and Des Grieux and Lescaut have come to LeHavre to be near her. Des Grieux is distracted with grief. Lescaut tellsDes Grieux he has bribed an archer, who will take the guard's place whenthe latter is relieved. As the dawn breaks Lescaut approaches the barracks,and, exchanging a sign with the new sentinel, goes up to the barred windowand taps cautiously. Manon appears at the window, and is overjoyed atseeing Des Grieux. She tells him she is to be taken to America. They attempta rescue, but they are disturbed in their efforts by the firing of shots.They are compelled to leave. A guard appears, bringing a number of womenwho are to sail to America; Manon is one of them. As they pass by, Lescautpoints out his sister to one of the citizens, who have come to watch theembarkation, and tells him that he knows her story. She was abducted fromher young lover. Des Grieux attempts to walk by Manon's side, but thesergeant of the guard pushes him aside roughly. Des Grieux threatens him,and entreats Manon to cling to him. Urged on by Lescaut, the citizens takeDes Grieux's part. The captain of the vessel suddenly appears, and, learningwhat the trouble is, takes pity on Des Grieux and permits him to go on boardwith the rest for America. Des Grieux is overcome with joy, and Manon,realizing the help that is come to her, opens her arms to her lover, whoembraces her. Lescaut, astonished at the turn things have taken, shakeshis head and walks away.
The fourth act takes us to America. The scene is a great plain near NewOrleans. The sky is overcast, and night is falling. Manon and Des Grieuxenter, poorly clothed and evidently worn out from fatigue. Manon isexhausted and leans heavily on Des Grieux. They do not know where to findeither food or shelter, or even water to drink. Manon is in the last stagesof weakness, and Des Grieux is beside himself with despair. He finds a restingplace for her, and goes off to look for water. Manon, thinking he has forsakenher entirely, feels there is now no hope for her at all. Only the tomb, shecries, can release her from her burden. Des Grieux comes back in time to bepresent at her last moments. She dies, declaring her love for him. Des Grieuxfalls senseless on her body.
Les Cautions Bancaires
adapted from Charles Annesley, The Standard Operaglass, 1920.
Lescaut Manon
[ Opera Information PageComposer PageOperaGlass Main Page]